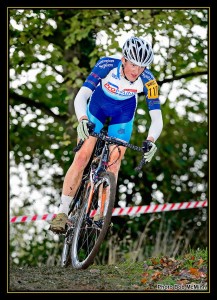 Flying Junior Dylan Kerfoot-Robson (right, Marsh Tracks) took his first senior race win – and seemingly the first of many -at Otterspool Park in the Geoff Bewley Memorial Cross. The rising star rode consistently and strongly in the mud and took advantage of a less-than-perfect ride from NWCCA series leader Giles Drake (Herbalife / Leisure Lakes).
In other events,, the day was characterised a little by raids from visitors, including a great win by over-50 champ Steve Davies in the 104-strong field of the V/W event edging out v45 champ Pete Middleton.
Congrats to the other winners in the various age / gender groups: Lucy Horrocks (Hope Technology), Rosa Martin (BYCA), Alistair Leivers (BYCA), Ewan Grivell-Mellor (Mid Shropshire Whls), Matti Egglestone (Beacon Wheelers), Niamh Albone (Liverpool Century), Rebecca Preece (Contessa Scott Syncros), Martha Gill (Bolton Hot Wheels CC), Julie Phelan (Goldtech), Martin Woffindin (Cycle Sport Pendle), Scott Fisher (Furness Future Flyers), Bryn Lawrence (Eastlands Velo), Evelina Black (Bolton Hot Wheels) and Imogen Peatfield (Bolton Hot Wheels).
Results
Photos
Lots of the Vets / Women race here by someone called ZigZagCat2004 (suspected not real name) here on Flickr
Lots of the Senior / Jun event from Paul Edwards here on Flickr
Videos