The NWCCA have invested in a chip timing system to assign timing chips to all league riders.
In your league registration pack you will receive a pair of race numbers, a timing chip and ankle strap. You will keep hold of them between events and use at every league round. At the end of season we will collect everything in.
The timing chip should be worn on the outside of either ankle, on top of any clothing (socks, leg warmers) as the chip signal is reduced when covered by wet clothing and may result in missed detections.
If you forget your numbers or chip at a race, let the signing on team know and they will allocate you a non-league pair of numbers/chip to use and then associate them with your league number for league points.
If you lose your numbers or chip, it will cost you £10 to replace so please keep them safe. We currently spend hundreds of pounds every year replacing missing numbers; if the same amount of chips go missing this will cost thousands to replace.
Timing System Finish Line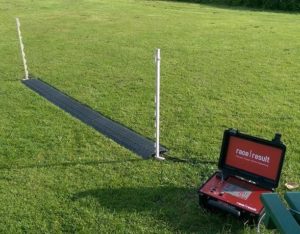 How to wear your chip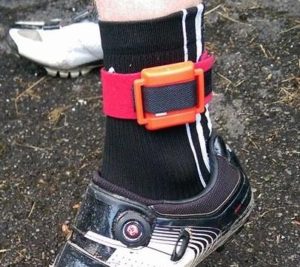 | | |
| --- | --- |
| DO | DON'T |
| Do bring your numbers and chip to every race | Don't forget/lose them! Replacements will cost you £10 |
| Do keep your chip and ankle strap clean | Don't put your chip in the washing machine |
| Do wear your chip over all clothing | Don't wear your chip under clothing |
| Do wear your chip on the outside of your ankle | Don't wear the chip on the inside of your ankle |
| Do stay away from the finish line matt if you aren't in the race | Don't cross the finish mat whilst any other races are on |
| Do inform the commissaire if you have forgotten to wear your chip on and the race is about to start | Don't forget to wear your chip!! |