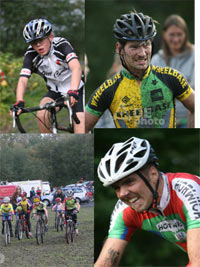 A great day's racing for 93 riders on a short but fast course that had everything!
Three events produced three very convincing winners, and some time gaps associated with the more testing 'cross courses around!
Stuart Reid managed to consolidate his very fast start to take the honours for the promoting team in the senior event, despite a busy and long day marking the course. The youth race went to plan for Hamish Fletcher-Cooney, making the trip from Ulverston worth his while, whilst the under 12s saw a savage battle won by Sam Turton.
Some VERY PROFESSIONAL LOOKING photos are available from photographer Dave Russ on the Digital Event Photo
website. Dave's photos are well worth the money and show how good a good protographer can make us all look – even the more ugly of us. Dave makes his living from covering events like these and we'd encourage you to splash out on those photos of you all looking so business-like so he covers more 'cross events!
Results are HERE
A big THANK YOU from Dave H to all the NWCCA members who chipped in to help out in this first Wheelbase race, and a special thank you to Adrian Dalgliesh and Anthony Morris, who both put aside some good overall places to help an injured rider.
Other photos by:
Dave Haygarth, (60 images) Ray Pugh (28 images). Dave Brailsford (6 images)


.