Tuesday 27th December is the date for the forthcoming Cyclestore.co.uk /Don Massey Jewellers /Ride and Repair Supacross 2016, organised and promoted by Macclesfield Wheelers. It's the last event in the NWCCA calendar so be sure to finish your season on a high on the edge of the beautiful Peak District.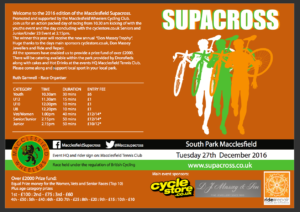 Many sports and their competitors enjoy the fact that their chosen discipline is split into halves giving a mid game break and breather. Not so our sport of Cyclocross! If it did though what would you do with 10 minutes? Alter tyre pressures? Wash your bike? Massage? Toilet break? Tea and cake? Cigarette!!? Or…. god forbid…. give up? (Of course you wouldn't you're an 'ard crosser).  Either way it's not going to happen. Its eyeballs out non-stop from start to finish and that's the way we like it.
From a seasonal perspective however it's true to say the weather has created two very distinct halves. Starting with Round 1 at Preston through to 29th October at Otterspool (Round 7) the courses have been relatively dry and fast. Round 8 at Weaver Valley two weeks later however brought about a complete change and mud galore. Whatever the weather brings from now until the Supacross in Christmas week, South Park never disappoints in draining very well, being a largely firm and at times very fast course.
For those new to the venue it's an open grassy park over varying elevations so expect burning calves from the short sharp digs, tricky off camber sections and fast corners. Overtaking is never an issue as there's plenty of space and if you do need to pit we have double pits in the centre of the course.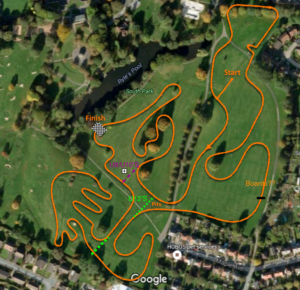 For spectators and racers alike we'll have commentary, a catering van 'Dronsfield' , Scruffydog Creations stall and Ride and Repair stand.  Supported With the CAT A facilities in the Tennis club HQ along with hot drinks and cake. The tennis club which is within the grounds of Macclesfield Collage (Park Ln, Macclesfield SK11 8LF) has ample parking and is just five minutes walk/2 minutes cycle from the start/finish.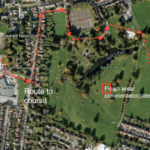 Furthermore we always attract racers over and above those league regulars. Many such as Nick Craig Ian Bibby, Jack Clarkson and David Fletcher will be present to always give a masterclass in close quarters racing prior to their National Championship commitments. Beth Crumpton, Alice Barnes Becky Preece and Sophie Thackray will hopefully contest the Womens Race. (Integrated into the Vets race)
We are for ever grateful to the local businesses whom support the event and provide sponsorship. Cyclestore.co.uk continue to sponsor the Senior event alongside Don Massey jeweller , Ride and Repair with Nimrod supporting the Youth race.
Please note sign on closes 25minutes before each race with gridding 15minutes prior to the race start times.
Please check out the events website www.supacross.co.uk, its twitter feed @maccsupacross and Facebook Macclesfield Supacross for more information.