Update here from organiser Colin Humphreys…
The Weather
You may have noticed that the weather isn't great at the moment and we have poor weather forecast for the weekend.  This does have a few implications!
We may have to make some amendments to the course and I'm concerned with the lawned areas in front of the house.  If we have to we may fence off these areas so please keep off the grass where it's fenced off.
We are also experiencing waterlogged fields where our overflow parking has been arranged.  We still have a long cinder area within the field but please follow the instructions from the car parking marshals.  The club is also liable for any damage to the fields by vehicles.  We need to park close to one another so again please help by cooperating with any requests from the marshals.
It's very important that we look after the venue if we are to return next year.
Coffee and Cake from Tilly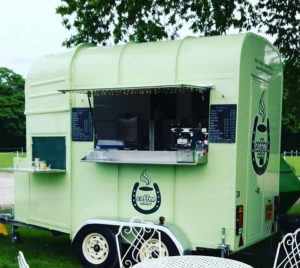 On a lighter note Tilly will be visiting the event again.
Tilly is a lovely converted horsebox and Tillys owners sell an excellent espresso blend, roasted in Staffordshire.  The full range of barista made specialist coffees are available plus a selection of traditional teas, fruit infusions and a most lovely hot chocolate (just right for warming up post race!).  There will be a selection of homemade cakes, flapjacks and biscuits (for energy you know …) and Tilly is really looking forward to the racing.
Coaching support for the U12's
British Cycling HSBC UK Go-Ride Coaches Craig Ansell and Jack Humphreys will be on hand to provide an orientation session for the U12's, 10's and 8,s from 9.30am.  This sessions will help those new to cross to get a feel for the course before the main event.  Even experienced young riders can pick up a few tips from 2 coaches who have competed in cross at the highest level.