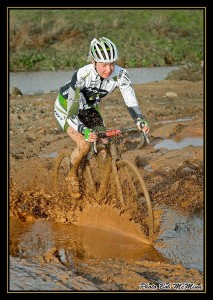 Giles Drake made it 9 wins out of 10 in the Senior & Junior race at Cockerham Quarry organised by Red Rose Olympic.
Giles led from the start with Matt Lawton not far behind on the challenging course which included off-cambers, concrete roads and heavy-going fields. On some sections of the course, riders found it was faster to run than ride.
At the bell lap Lawton was 18 seconds behind, but Drake had held his advantage at the chequered flag.
Dan Wells took 3rd place after passing fast starter Alex Jones on lap 2. Tom Figgins took 5th place and was also 1st Junior.
Roy Davies took his 3rd win of the season in the Veterans & Women's race. Stef Chandler was 2nd, with Tony Sowden and Ian Ashworth in 3rd & 4th.
Becky Preece was 1st Women finishing in 19th place.
Special mention goes to Red Rose Olympics Caroline Humphreys who finished 1st Woman-Junior after spending the morning helping to setup.
Joseph Peatfield took victory in the Youth race from Theo Hartley and Nathan Hawthorn. 1st Girl was Kim Baptista in 4th place.
The Under 12s and Under 10s were hotly contested as always with Tyler Koch, Eve Barrow, Ethan Cuerdan, Evelina Black, Jake Holland & Imogen Peatfield victorious in their categories.
Thank you to Jez Eastham, his Red Rose Team and league volunteers for organising a fantastic days racing at the new venue.
Photo of women's winner Becky Preece by Bob McMinn
Results
Photos
Video
On board video of senior event by Dane Walker here