Sunday 19th January sees the North West Cyclo Cross League return to Beacon Country Park for the final event of the season. Organised by the St Helens CRC, the Youth event will start the day off at 11am.
Events
11am – Youth Race, £6 entry fee
11.45am – Under 12′s, £1 entry fee
12:10pm – Under 10/8's, £1 entry fee
12:45pm – Veterans & Women, £12 entry fee (£14 for Non-NWCCA Riders)
2:00pm – Senior & Juniors, £12 entry fee (£14 for Non-NWCCA Riders)
S/J/V/W Course
The S/J/V/W course will be slightly different to last year with more use of paths and other sections of the park. The climb alongside the golf club and fast descent to the bottom field are back in. The majority of the course is ride-able with only the steps to the finishing area requiring those finely tuned dismounts and remounts! S/J/V/W race will start over in the big field near car park 3.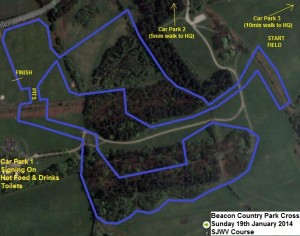 Youth Course
The Youth race will start at the Finish line.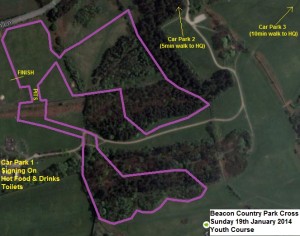 Under 12/10/8s Course
The Under 12s & Under 10/8s will start at the Finish line.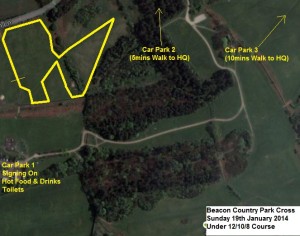 Signing On
Riders will be able to sign on at Beacon Golf Club. The Golf Club will be serving hot food and drinks throughout the day. Toilets are at the Rangers Centre, not in the golf club. Please do not enter the golf club wearing muddy footwear. For those with sat navs, the postcode for Beacon Country Park is WN8 7RU. There are 3 car parks within walking distance of the Golf Club. Please use the other car parks when the 1st is full.
Arm Numbers & Pits
Arm numbers are to be worn on your right arm. There is strictly no jet-washers allowed in the pit area.
Jet-washers can be used but away from the pit area to prevent soaking all the other pits crews.
Sponsors
Thanks to the generosity of our sponsors every rider will receive a prize (whilst stocks last). Please visit their websites and check out their products/services.
Harry McNally (Tiling Contractor)
Standout Driveways
BioRacer
High On Bikes
Kuota UK
Bikes You Like
Halo Sports Wash
British Cycling Website Link
Full details for the race can be found on the British Cycling website here.
NWCCA Prize Presentation
The NWCCA prize presentation will take place after the cross race and will be held in the Golf Club. The presentation is free to attend; the Golf Club will be serving a hot buffet. Tickets for the buffet cost £6.50 per person and can be purchased using paypal. Tickets are on sale until Saturday 11th January.
Further details on how to purchase tickets can be found here.
NWCCA Prize Presentation Raffle
A raffle is being held at the prize presentation to raise money for the NWCCA. Raffle tickets can be purchased on the day. Prizes have been kindly donated by:
Remerx Wheels UK
Sport Sunday
Rouleur
BioRacer
Picton Cycles
High On Bikes
Kuota UK
Bikes You Like
Hope Technology