Preview: Rossendale Road Club Cyclocross – NWCCA Round 4 – Saturday 11 October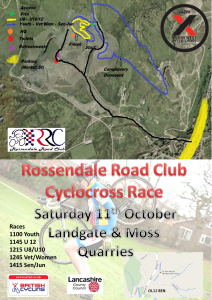 We don't want all our Lazer NWCCA league 2014-15 courses and venues to be the same, do we? (Don't answer that … It's rhetorical)
Following last year's mudfest and the associated inevitable complaints from locals, Rossendale RC have worked hard with the local authorities and come up with something very refreshing and Landgate Quarry.
A former quarrying site, this course is built on a mixture of reclaimed capped quarry and small tracks across moorland. The venue features a natural spectator and paddock area (which will house the entire u12 and U10 courses) combined with some proper rural exploration for other events. It's 100% Cyclocross though. Not your make-do course, and a lot of climbing per lap will make for spread out field pretty quickly in all of the events.
Course Video
Video here from Adrian Watts

How to get the most from your gear and preparation:
Don't leave your pressures too low – there won't be much stuff where you will struggle to grip and you're heightening the chances of a flat – there are some aggressive bumps and a few stones.
Bring suitable climbing gears if you can. You will struggle on 38/25 – there's a short but rideable tough climb that will waste you on a gear like that.
There is a short run-up that is quite steep (that broadens out to allow people to take a shallower but longer line). Toe studs will help if you can fit them.
Don't bring too much gear – it's a short trek (5 mins by bike) to the main paddock area from where you'll be parking.
Jet-washes probably not needed. It'll be messy but not too muddy – there's no leaf element and not too much to clog a bike.
Finding the venue
Landgate Moss Quarry. Shawforth, Oldham, OL12 8EN – about 15 mins by car from Rawtenstall then another five my bike or 10 by foot to the start.  Map here.