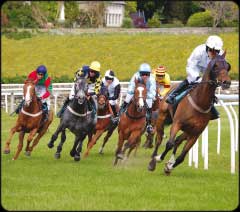 Cartmel welcomes round 8 of the Lazer North West Cyclo Cross League on Saturday 8th November. It will be interesting to see the odds on favourite alongside, Cartmel's famous race course…No I'm afraid to say there wont be any 6 foot "beech fences" but be sure to expect a mixture of grassland banks, technical trails, cobbled tracks and mixed woodland with plenty of cream teas after your event. There will be a separate U12/10/8's course separated by the main bridleway from the Senior's/Youth Circuit.
Please make sure you park in the Race Course car park (small payment required) and not in the village. – The car parking is £2 for 2 hours or £4 all day
Sign on will be in the Scout Hut on the South Side of the Racecourse (Follow the signs) from car park. Be prepared for a 10 minute walk up the hillside for the Pits.
The famous Salt Ayre Cog Set's catering crew will be on duty, so make sure you leave your butties at home to enjoy the bounty of goodies on sale after your race.
Race Times as follows:
11.00 Youth
11:45 Under 12
12:15 Under 10/Under 8
12.45 Veteran Men
12:45 Women
14:15 Senior and Junior Men.
Finally, we will try to present the youth and U12/10/8's prizes prior to the Senior/Junior Men's event with additional prizes kindly supplied by Ron Spencer cycles (Warrington) and Leisure Lakes (Lancster).