Round 4 of the North West League is a visit to Heaton Park, Manchester promoted by Manchester Wheelers and friends on Sunday 15th October 2017, Heaton Park Manchester
Car parking
Competitors' car parking at Bury Old Road entrance, M25 1JH, for a small fee or at the Lake car park on Sheepfoot Lane, M25 0DL, also a small fee. Please do not drive down through the park to the pit area.
Race times & course map
See the event flyer HERE as a pdf file or below for race times & course maps. Note the 'jump boards' don't feature in the under 8/10/12 races.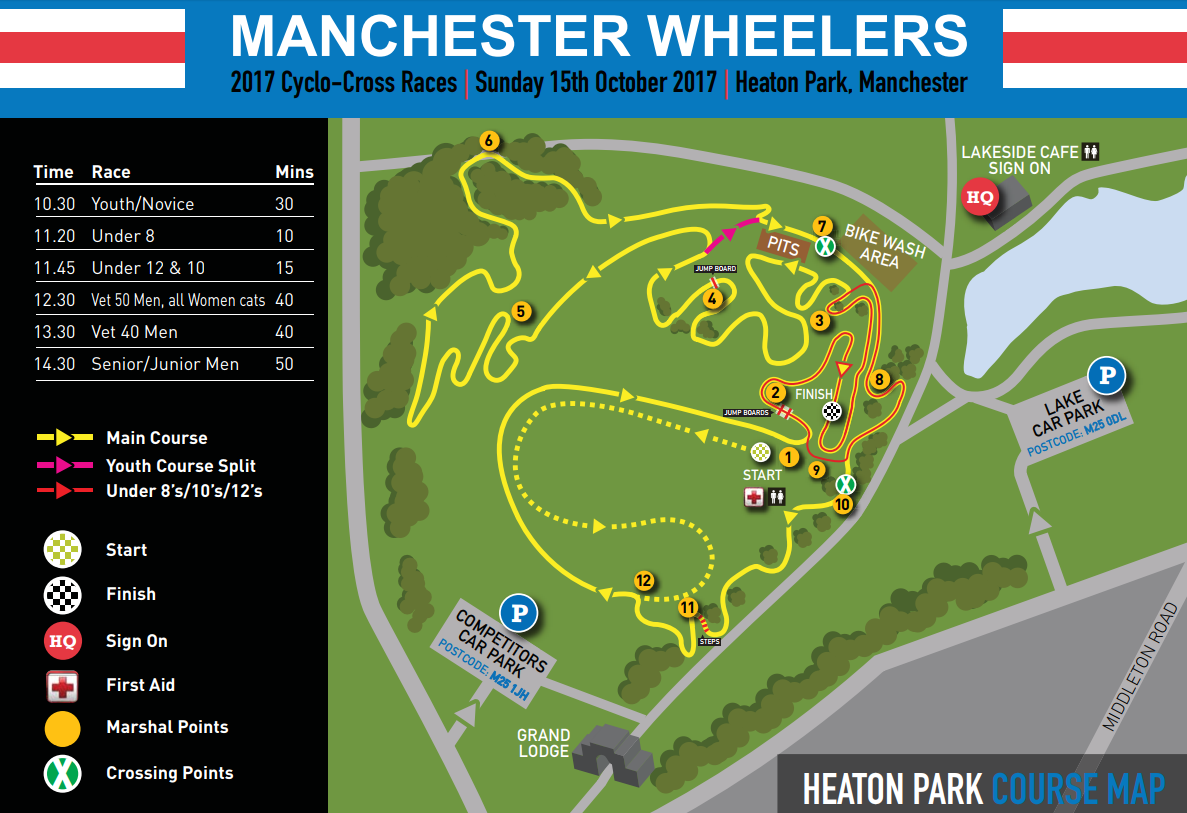 The course
We're using the familiar course with the pits at the bottom of the hill, and a long, wide starting loop. The course runs mainly over short grass with the rooty wooded paths included so watch out for pinch flats there. There will be plenty of tight turns on grass and around trees, three short hilly efforts per lap, plus two sets of boards to get you off the bike and on yer feet! Pits – please do your bike washing on the hard core area opposite the pits, not in the pits.
Sign-on at the cafe
Sign-on opens at 9am and is at the Pavilion Lakeside cafe, but please leave any muddy shoes outside, and please take care riding slowly through the park – it can get busy in good weather so please respect other park users. Sign-on closes 20m before each race start time. All entries on the day. Remember to take care of your bike in public areas, we don't want any thefts.
Respect…
Do not ride on the course when another race is in progress and please respect fellow competitors, organisers, commissaires, judges and marshals at all times – massive thanks to all the volunteers, we couldn't do this without you!
Prizes
We'll try to give prizes to the first three finishers in each race a few mins after the race finishes and other prizes will be with me/at sign-on at the next couple of events.
Facilities
There will be toilets at the start/finish area, Natasha will be there too with her good coffee van, Scruffy Dog will be with us with smiles and ace hats, and Isla Bikes are coming along for the day.
Enjoy!
Have a great day's racing, ride hard, ride safe and most of all enjoy!
Mick Style
Manchester Wheelers