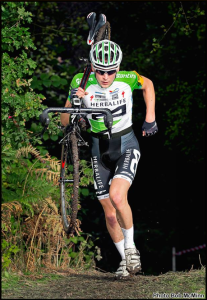 NWCCA powerhouse and winner of the previous two years' series Giles Drake (Herbalife / Leisure Lakes – pictured) got a second win of the series today in Pignut Hill in the Weaver Valley 'cross at Northwich.
Drake's progress, hampered so far only by Nick Craig (legend) and Deiter Droger (visitor), is inevitable, it seems, once again, in the 2013-14 NWCCA series.
Congratulations too, to winners in other events / classifications: In no particular order:
Aiden Lawrence (Eastlands Velo), Niamh Albone (Liverpool Century), Martin Woffindin (Cycle Sport Pendle), Rebecca Preece (Contessa Scott Syncros), Robert Rogers (Birkenhead North End CC), Pete Middleton (www.zepnat.com RT/Kuota/GSG Clothing (Mick Style (Manchester Wheelers), Scott Fisher (Furness Future Flyers), Bryn Lawrence (Eastlands Velo), Evelina Black (Bolton Hot Wheels), Imogen Peatfield (Bolton Hot Wheels), Adam Hartley (Velocity RT), Lewis Hartley (Eastlands Velo), Kim Baptista (Eastlands Velo), and Becky Gregson (BYCA/RVJ)
Photos
Martin Holden was there… I'll post as soon as I have the link…!   The image of Giles is from legend Bob McMinn on Facebook. Look him up.
Results
Photos from Martin Holden
Video
Another great on-board one from Dane Walker