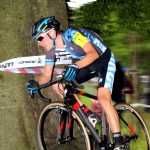 A very fast and another excellent course from the Horwich CC at Leverhulme Park today.  Well done to all involved in organisation and helping the races run smoothly.
Congratulations to riders and indeed winners in all events – not least Nick Craig who won the veterans race then rode to second behind a strong Giles Drake in the Senior race.
Results
Lap Times
The official results above have been compiled using the combination of the timing system and manual judging. The results are official, lap times below are for information only. We will not be answering any questions regarding lap times so please do not email as they do not effect the official results.
With the fantastic numbers of riders taking part in the league this year we (the volunteers) are stretched with the jobs that need doing each week before each race. If we receive multiple emails regarding lap times we will not be publishing them for further events. Cheers Rob Pugh
Photos
Video
Short film of the Senior race here by Bolton Filmmakers ElectroSundays