Geoff Bewley Cyclocross – NWCCA Round 10 Otterspool Park – Results and photos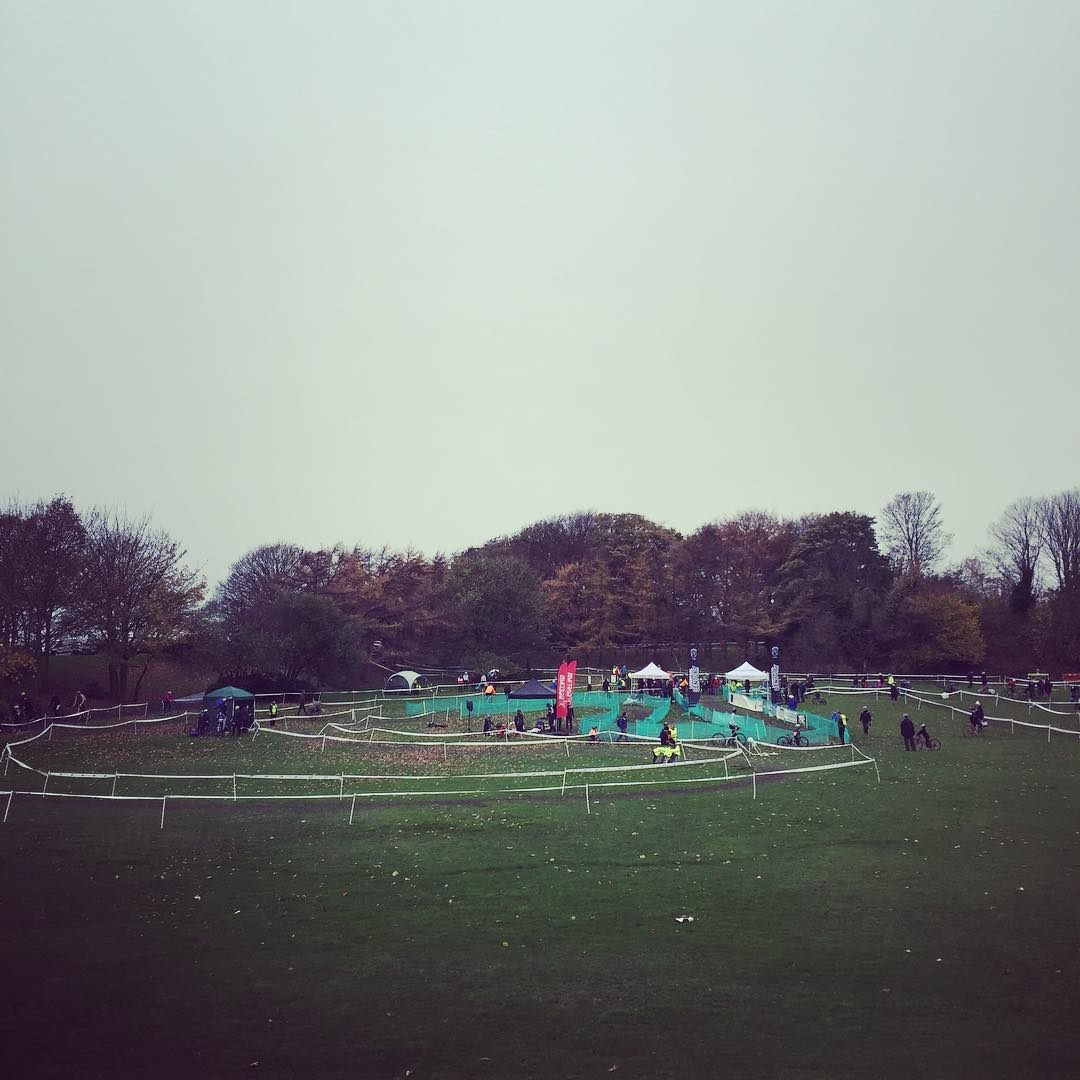 Storm Abigail did her best but the smiles couldn't be blown off the filthy faces of rider in all categories of racing in Otterspool Park.
Mud, rain, a great course and slick organisation meant a brilliant day was had, yet again, in a great race promotion by Liverpool Century and Mike Fugaccia's team of helpers.  Here's Mike's report:
YOUTH U16/14
The Youth had it best with a 'dry' course that saw Lewis Hartley (VCUK) take the win in what turned out to be by 27 seconds from Issac Peatfield (Bolton Hot Wheels) who out maneuvered Cory Edmondson (VCUK) to finish 2nd & 3rd respectively. Under 3 minutes behind the U16's, 1st and 2nd in U14 Boys showed their skill by finishing 5&6th overall, George Ball (Furness Future Fylers) and Tyler Koch (Mossley CRT) pushing some of their older counterparts down the standings with Matt Bapista rounding off the podium in 3rd. Birkenhead's Nicole Clarke topped the U16 Girls, finishing 10th overall, with Cara Lakin (Salt Ayre Cog set) and Helen Osguthorpe (North Cheshire Clarion) completing the top 3 steps. Century's own Niamha Albones took the U14 Girls crown with Maisy Vasic (Eastlands Velo) a few minutes behind, with Jocasta Minton (Bolton Hot Wheels) coming in 3rd.
U12
On the shortened course afforded to the U12's the racing still was intense. With an increased technical challenge they showed their grit and another excellent display of racing was on display. Ben Mashiter (Furness Future Flyers) stormed to victory, 20 seconds ahead of his team mate Scott Fisher who himself managed to distance Dan Eastham (Red Rose Olympic) by just under a minute. In the Girls race Erin Corrigan (Mossley CRT), Eva Newby (Furness Future Flyers) and Lucy Dalgleish (Salt Ayre Cog Set) completed the podium all within a few minutes of each other.
U10
After a slight hitch getting onto the course (trapped by a net!) Alex Poulston (Birkenhead North End CC) cruised to a confident victory putting 20 seconds into Sebastian Grindley (North Cheshire Clarion) who again himself placed 20 seconds above Joshua Jackson (Lyme RC). Lily Brindle (Preston Pirates) kept there from being a family double victory by pushing Emma Poulston (Birkenhead North End CC) into second with Megan Lloyd (Harry Middleton) coming in 3rd.
U8
With the racing as keen as the older age groups; the kids got on with the racing in fine form, in this one of the most popular races. Fraser Cummings (Buxton CC)  piped Daniel Cosgrove (Southport CC)to take the win in the under 8 boys, with Monty Sutton (Portsunlight Wheelers)  taking third, cheered on by the amazing support of Portsunlight Corner. Elsie Haygarth (Here Come The Belgians) showed her dad how to win a race as she took the honours in the U8 girls with Elizabeth Grindley (North Cheshire Clarion) and Millie Baptista (Mid Lancs Bmx) finishing 2nd and 3rd – only separated by 6 seconds.
Vets/ Women
The weather; right on cue, let out a deluge to make the Vet's & Women's race a cold, damp affair, however the racing was red hot! The slippery conditions saw those best adapted to a slick surface, with good technical skill come good. Pete Middleton (Zepnat) and Dave Haygarth (Planet X) had a real boxing match. Each lap saw the top spot change hands several times with Pete wrestling the win from Dave's grasp in the final lap. Andy Brindle was always there or there about, the young man of the top trio.
Womens
It took 2 top class women to knock Becky Preece off her 5 year run of back to back victories. Evie Richards (TMO) finished 6th overall and took the victory from Alice Barnes. Evie claimed a Silver in the UCI MTB Worlds earlier in the year, so is no stranger to giving a top class performance. Alice Barnes herself got an excellent silver in the Woman's National Road race earlier this year. What quality!!
Senior
Would Giles Drake end his drought of failing to grab the winners jersey at Otterspool? This year it looked like he may still miss that top step with Mark Donovan getting repeated 10 second gaps throughout the race, with Giles only closing on the more technical sections. The racing was close and almost out of control as both riders took decisions that put them both in trouble several times, but such was their quality that it never turned against them. A thrilling race saw Giles gaping Mark on the last lap and snatching the winners spot after an epic tussle. Such fantastic racing was keenly admired by all those watching. Not to forget Mike Wardle who finished 3rd in a strong performance.
Well done to all our riders who braved the weather @nwcca Otterspool CX today. Dads muckier than kids! pic.twitter.com/m3tVVrqmC9

— N Cheshire Juniors (@NCCJuniors) November 14, 2015
Fun time with friends @nwcca #otterspool kid rack or bike rack?? pic.twitter.com/TZzNIgI321

— Bolton Hot Wheels CC (@BHWCC) November 14, 2015
Results
Photos
These are shared with 'public' from Paul Best on Facebook.  Please do Paul the courtesy of liking / crediting if you use any.
Chris Meads has some lovely sultry monochrome beauties here on his website