Year 4 and we're back – the HMCC CX race will take place back on the Beacon Park. Great feedback on previous year's course so we have left it largely unchanged but we have added some new features to keep it fresh. Expect a mixed terrain of the usual mud, grass and some great tracks through the woods. The tree climb is also back by popular demand with cowbells aplenty.
Race schedule will be as per usual for NWCCA. Prize fund is over £2500 and there will of course be equal prize money for Men and Women. There will also be fantastic winners jerseys too (supplied by the Bicycle Lounge) along with goodies.
Parking
There will be 3 parking areas for the race:
Main Golf Course car park (including over flow car park – this is a new large area, hard pack)
Middle car park
Hants Lane car park
Please note that there is limited parking in each area, please respect marshal guidance and use the car parks and avoid parking on Mill Lane main road and please avoid blocking public footpaths. With the additional overflow near the Golf club there should be plenty of parking.
As usual, in order for future events to be run please avoid causing any traffic issues. It has been known for the police to patrol the main road giving traffic tickets. Please be respectful of local residents and the general park users. Parking areas will not be monitored by race organisers, please be safe and secure with all equipment and vehicles.
Practicalities
Number/chip collection will be in the central event hub located at the bottom of the middle car park.  Where it has been in previous rounds if you've been before.
There is an outside water tap located near the rangers centre but this is used by dog walkers and is a good distance from the main race. We would suggest bringing your own supply of water for jet washes.
There will be food and coffee on site.
There will be four portable toilet facilities set up near sign on.
DJ is back too.
Courses
The Youth will follow the Senior route with the exception of the wiggles to the bottom right of the below course map.
The U12/10/8 route will be a loop through the finish line, into the big field, round the pits and back again.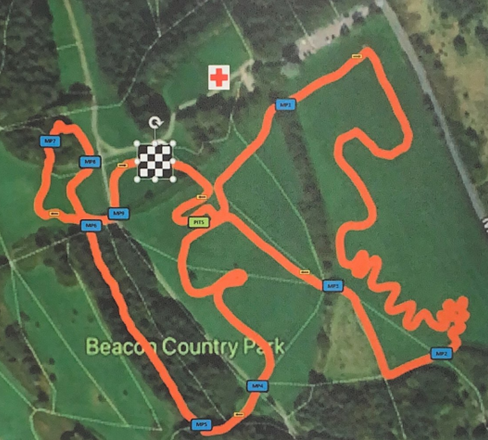 Please be respectful of all users of the Beacon Country Park, we share the area with the general public and they have as much right to be there as we do, lets continue to utilise this great, supportive venue by being our usual friendly CX community!
Prizes
There will be equal prizes for men and women and fantastic prizes for our junior riders. There will also be winners jerseys too. All prizes will be distributed during the week after the race – there will be no prize ceremonies on the day to comply with Covid guidelines.
Results
Should be out as early as possible on the evening.  Pre entry makes us confident!  Keep an eye on NWCCA.org.uk and the site social accounts
Race links

Good luck to everyone, see you on Sunday
Craig Sneddon and HMCC team