We are looking forward to welcoming you to Glaxo, Ulverston on SUNDAY 26th NOVEMBER for 'Another Fine Mess!' It looks like we are going to avoid the arctic conditions of last season and are hoping to see the sun.
Event Location
LA12 9DR (direction signs will be in place from A590 in Ulverston)
COURSE
The course is a mixture of grassy banks with a solid base, muddy grass and around the back of the clubhouse there is a more technical section through some trees. Basically, the course should have something for everyone. Youths will be riding the full course with U8/10/12 starting from near the pits to just use the clubhouse loop.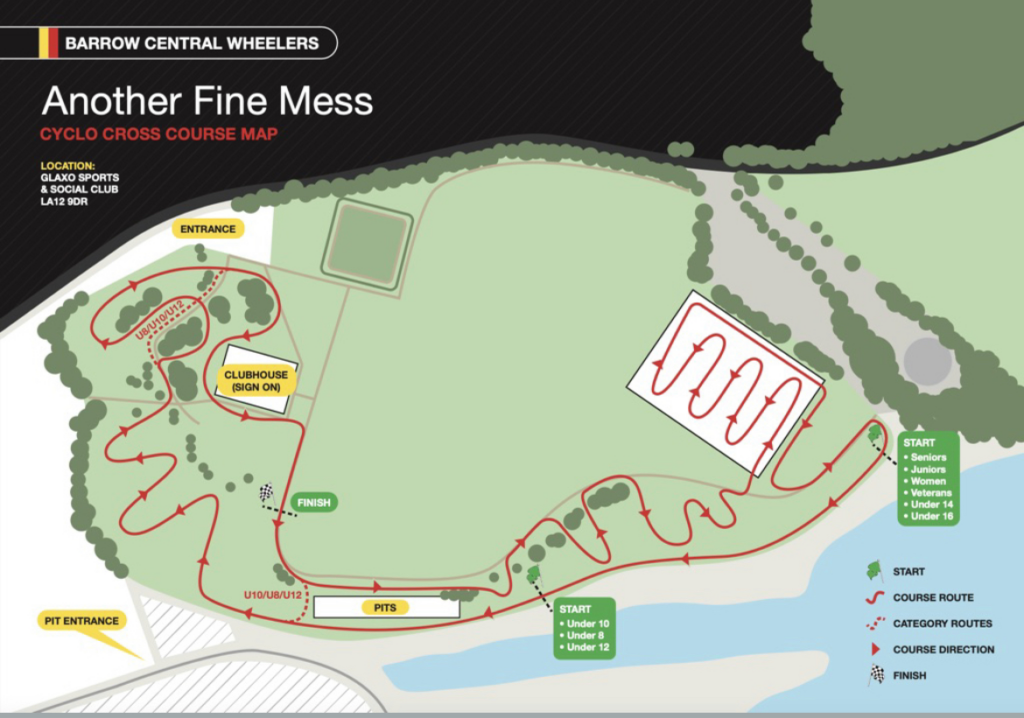 FACILITIES
Please respect them as much as possible. Please do not ride bikes or walk on any of the sports pitches in front of the club house. The course is on the bankings away from the pitches so there is no need to be on them.
CAR PARKING
There are two car parks, a smaller one close to the clubhouse and a larger one just off the roundabout as you arrive at Glaxo. We are permitted to park in GSK's main car park for no extra fee. Please reverse park in to spaces. The entrance bollards will be up and there should be plenty of space for vans, kit, turbo's etc. Please be careful making your way to the course, which is very close, but across a road.
PITS/START AREA
The pits are in the central position again to help make the course more workable for all races. There is a separate entrance which can be accessed by car off the first roundabout, third exit. There is space for a few cars or you can park on the road leading up to it. Failing that you can easily get to the pits when on site. Start is at the far end of the course or up on the banking for U8/10/12.
REGISTRATION
This will be in the club house .
PRIZES
These will be via Paypal. There is a podium and we'd love to have photos of the top three from each category. Please come to the clubhouse directly after your event and we will try to fit in the prize giving soon after the race finishes. There will be a PA announcements throughout the day.
With the 1 in 5 prize rule in place please come to HQ if you finish in the top of your section.
FACILITIES/CATERING
There are changing rooms which can be accessed from a separate door to the main club house door, or you can go through the main door. Please be aware of this, especially if full of mud. They do appreciate there will be muddy people around but we can do our best to minimise this! Hot/cold drinks and sweets etc will be sold in the club house and we have a caterers coming to sell hot food.
SUPPORT
Ride Bike and Leisure Lakes, two bike shops in Ulverston, will have trade stands and mechanics available if you have any issues.
FIRST AID
Event Medical- UK Ltd will be providing first aid support.
Finally, we are looking forward to welcoming you all and it will be well worth the trip to the most northerly leg of the league!!
Graham and the BCW team.