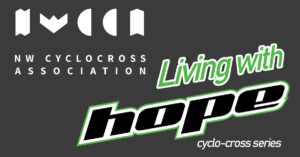 After the Round 2 work to get the new track / bridge / gate in, Round 3 will be a time to consolidate, so expect tweaks to the course design, slight further shortening of the lap, and a few new lines and some old favourites. Hope Technology once again generously support the event with infrastructure, venue, and course layout. 
For Round 3, you're being looked after by marshals and officials from Red Rose Olympic CC, Ribble Valley Juniors Cycling Club, and Port Sunlight Wheelers.  Give them all a smile and a thank for giving up their time over the Christmas period and standing about on what looks set to be a chilly day.
Once again, please bring your contactless payment to get lush food and hot drinks from Leivers &  Co, who'll be catering again, and helping or marshals and other officials with food and drinks.  Thanks Tom and team.  
The Commissaire team are getting used to this venue. Graham Parker and Len Woffindin again helping the races to run smoothly and safely, and helping Mark Royle and Craig Sneddon get results and timing. Sincere thanks in advance to all these people giving their time.  
Information for riders
Full information including a start list is here.
Summary:
PARKING AT ANY OTHER PLACE THAN THE CAR PARK INDICATED BELOW WILL JEOPARDISE FUTURE EVENTS HERE
Please bring 8 pins. We spent an age getting pins into groups of 8 last time, and it'd really help us. If you forget them, we have a plan, but it will involve a lot of sanitising and a lot of faff for you.  Your pins are much better.
Online entry only.

 This closed on Sunday 22nd November.  No entry on the day accepted at all

 

There are no pits, and no jet washers or air compressors are permitted on site, and no outside assistance by parents or guardians for any riders, including our younger riders.
There is to be no bike, shoe or rider cleaning whatsoever in the event car parks. Bucket and brush can be used to clean your equipment on the parkland grass area, but we must keep the car parks free from mud, to allow us to use this venue in the future.

 

Full compliance with the latest social distancing measures are an absolute requirement. Riders or their parents / guardians who are in violation of this will be prevented from entering further events
There will be no spectators, and riders watching other events must only be there for safeguarding purposes, such as parents or guardians.  You will be expected to turn up no more than 1 hour before your event and leave within 30 minutes of its finish unless you are with a family member from your household who is riding in a different event to yours.
Timetable of events
Riders should be at the start / gridding area between 10 and 5 minutes before their event 
| | | |
| --- | --- | --- |
| Start time | Event | Duration (minutes) |
| 09:50 | Course familiarisation – Youth U16 and U14 | 15 |
| 10:15 | Youth U16 and U14 | 30 |
| 11:05 | U8 | 10 |
| 11:30 | U12 | 15 |
| 11:31 | U10 | 15 |
| 11:50 | Course familiarisation – V50 and Women | 15 |
| 12:15 | Veteran 50+ men | 40 |
| 12:16 | Senior, Junior, U23 and Veteran Women | 40 |
| 13:05 | Course familiarisation – V40-49 Men | 15 |
| 13:30 | V40-49 men | 40 |
| 14:20 | Course familiarisation -Senior, Junior, U23 and Veteran men | 15 |
| 14:45 | Senior, Junior, U23 and Veteran men | 50 |
Practice on the course
Competitors must not ride on the course at all apart from on the event date.

There are very limited opportunities for course familiarisation, because the event is taking place with several races in one single day, with limited daylight. 
Riders on the course outside of the times shown above will be subject to immediate disqualification from their event. For the purpose of clarity: 

Riders must NOT BE at any time that a competitor is still racing in an event, as the timetable may have 'slipped'. 

Course sighting – 
Must be ridden as a solo rider, and strictly observing the prevailing social distancing guidelines with other riders practicing 
Must be continuous, and keeping a forward motion (i.e. not turning back to 'session' parts of the course).
Start, Finish and gridding area
Riders should prepare in the grid not earlier than 10 minutes before their race start.

They must observe social distancing guidelines when entering the gridding area before their race
IMPORTANT! You should bring your own NWCCA ankle timing chip if you own one.
There should be no congregating after the race and riders should proceed through the taped off exit area after racing – leaving timing chips (if they do not own their NWCCA timing chip) in the bucket provided
The grid will be 10 riders wide and the rider numbers will be used to grid them. The grid boxes will NOT be marked with numbers, and riders will be called to the grid BY THEIR NUMBER in blocks (i.e. rows) of ten.
They can choose their place on the row in priority number order. This is to prevent 'gaps' in the grid for any riders not turning up.
At the race finish, or upon the withdrawal of a competitor, exit must be made through the taped area, and timing chips must be placed in the bucket provided, unless the competitor owns their NWCCA chip
No congregation of riders is permitted either before or after the race
Traffic and parking 
PARKING AT ANY OTHER PLACE THAN THE CAR PARK INDICATED BELOW WILL JEOPARDISE FUTURE EVENTS HERE
Entry is from the A59 only, and to exit, vehicles must turn LEFT towards Elslack. 
Marshals will help attendees with parking. Vehicles should be parked at least 2 metres apart to facilitate safe social distancing.