The famous Hippopotamus song feels like an apt song for this time of the CX season, and an apt song for Stadt Moers.
Another year and another course change. We will be using features from previous years but running them in a different direction and order.
THE USUAL CAVEAT APPLIES –
The courses below are only a guide as there is rain predicted all week. This can affect lap times and the punctual running of the event, so it may be shortened.
MAIN COURSE DETAILS
The race will go up through the woods (1) and across to the second section of woods (2). From here we will turn left (3) and go down the slope to the gap leading to the main field (4). This will be the first pass of the pits (5).
The course takes a short cut through a wooded area and onto the nice slippery corner next to the path (6). From here it's a run down a path to the furthest point of the course, a short tarmac section then onto a ride/run up towards the Ladybird (7), try and keep to the right if your running/walking this feature as there are log steps, this will keep the left-hand side clear for those riding. Right turn at the top (8) and a straight path with a downhill across to the second ride/run up (9), again try to keep to the right if you are running/walking up.
Straight through to another wooded section (10) then back to the main field. The youth course will turn here (11) and complete their second pass of the pits. The senior courses will have a new loop (12) which brings them back out through to the pits via a wide path through ANOTHER wooded area (13). Second pass of the pits for the longer course (14) then the return of the Century planks to create a nailing biting finish.
The race takes place in a public park so please be courteous at all times, we have always had great feedback from the locals over the years so it would be good to keep this up.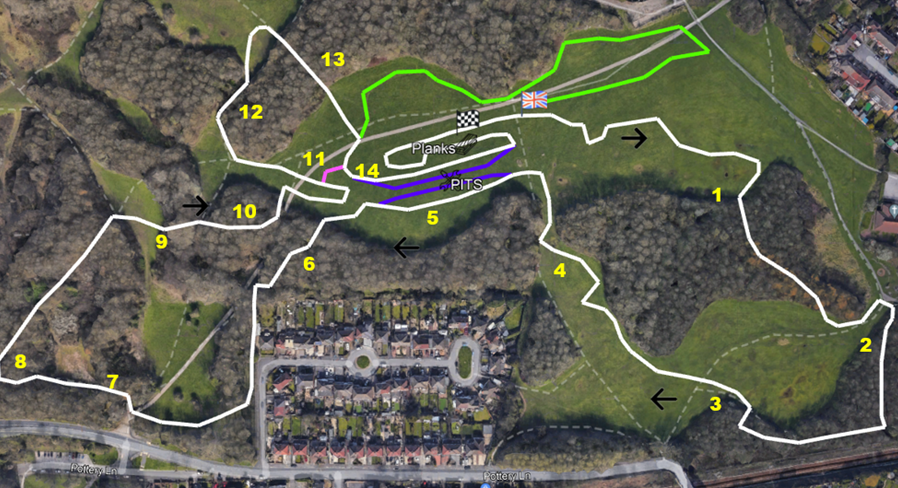 | | | | | |
| --- | --- | --- | --- | --- |
| Practice 1* | 9:30 am | 35 mins | | Full course |
| Youth/Novice | 10:15 am | 30 mins | 2.2km lap | The youth course will remove the loop (12) |
| U8 | 11:05 am | 10 mins | | Course will stay on the main field |
| U10/12 | 11:30 am | 15 mins | | Course will stay on the main field |
| Practice 2* | 11:05 am | 60 mins | | STAY OFF U12/10/8 COURSE UNTIL RACE HAS FINISHED |
| V50/55 Men | 12:15 pm | 40 mins | 2.5km lap | Full course |
| V60 Men | 12:16 pm | 40 mins | 2.5km lap | Full course |
| Practice 3* | 13:00 pm | 20 mins | | Full course |
| U23/Jun/Sen/Vet Women | 13:30 pm | 40 mins | 2.5km lap | Full course |
| Practice 4* | 14:20 pm | 15 mins | | Full course |
| U23/Jun/U23 Senior Men | 14:45 pm | 50 mins | 2.5km lap | Full course |
| V40/45 men | 14:46 pm | 50 mins | 2.5km lap | Full course |
*Practice times are approximate, please ask before riding the course and listen to all instructions from event team. Do not EVER ride the course if a race is still taking place, it is intimidating to the remaining riders.
The U12/10/8 courses will be an extension of the finish line area with lots of turns to make it challenging and fun. Parents will be able to view the course and we will make sure you can get all the way around. Can parents please only enter the course when required to give a little push or encouragement, if you stay on the course you will interfere with our riders, please be mindful of this.
Pits
The pits will be in the centre of the main field just off the main path. It is quite a trek from the town hall to the pits, so please take that into account; there is a tarmac path all the way to the pits. Jet wash area is at the far end of the pits. Please don't bring dogs into the pit area, it is a busy environment. Please consider other pit crews & equipment when you are in there, so remember to stand with your bikes perpendicular to the line until your rider is near, this frees up more space for others to get access. Riders without helpers will have an area for their bikes, please avoid leaving them in the middle of the pit area as helpers have to cross this to clean bikes and change pit lanes.
To avoid rear mech death in near certain muddy conditions, consider the following:
Carrying your bike over really muddy sections and scooping out what you can whilst you run (if you have really long arms and are good at yoga)
Not forcing your gear changes, if it isn't shifting straight away it's likely to be clogged
Employ a pit team and buy a 2nd bike from Picton Cycles or Quinns by Saturday (Shameless sponsor plug)
Learn floating or levitation by Saturday
Directions to Sign on
Whiston Town Hall, Old Colliery Rd, Whiston, Prescot L35 3QX is where you'll need to sign on for the event. It's at the top end of the park with access to the course along the footpath. You can arrive at the HQ from the M62 Junction 6, taking Windy Arbor Road then onto Dragon Lane/Cross Lane/Old Colliery Road.
Parking
There are several parking spots for you to choose from. We experienced some abuse from a small minority of riders being asked to move as they had parked in a way as to block access. Please be considerate when you park as it may affect the events future. If you can ride to the event or car share, please do so.
Whiston town hall, parking space around the town hall and Boots. This will fill up quickly so be prepared to find an alternative from the list below. Once the officials have parked this car park can also be used.
Rangers office, Whiston, Prescot L35 3TJ there are spaces here, use this car park if you are in a race after 10:30 as it will be full with Park run competitors cars until then. M62 Junction 6, taking Windy Arbor Road then Greenes Road/Pottery Lane.
Pottery Lane has several spaces, do not park over private drives.
Paradise Lane Car Park, Whiston, Prescot L35 3RZ. Space for around 15 cars here. M62 Junction 6, taking Windy Arbor Road then Greenes Road/Paradise Lane.
Fallows Way, Whiston, Prescot L35 1RZ is an industrial road at the far end of Stadt Moers Park but is a 5 min ride to the sign on. Directions are M62 Junction 6 onto Windy Arbor Lane then onto Fallows Way.
Start area
The start area (Union Jack flag) will be near the judging area. Any clothing left on the ground will be taken to the judge's tent. Please get to the start line in good time. The start will have a call up area and will be gridded as previous league events. Please listen for the whistle and a call out on the PA.
The start will join the course before the judging area.
Prizes
We will do our best to have a podium after every race, this will depend on the weather.
Prize money will be paid via Paypal after the event.
Sign on & toilets
Whiston Town Hall is where sign on is situated, please follow any requests to remove muddy footwear.
Refreshments
The Pink Tipple will be providing hot drinks and food throughout the day. Please spend some money with them. They will be located next to the town hall.
Sponsors
A big thank you are always to our committed sponsors for many a year now. Buy some stuff from them!!!!
First Aid
First aid will be provided by Event Medical UK. Please do not ride the course until the First Aid team are on site and in place.